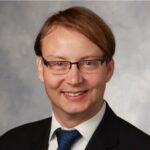 David Foulon
Head of Offshore Wind U.S., TotalEnergies
David Foulon is the Head of Offshore Wind U.S. for TotalEnergies, in charge of the newly created TotalEnergies U.S. Offshore Wind business unit. David additionally serves as Board Member on two of TotalEnergies' offshore wind joint ventures, one with EnBW and with Simply Blue Energy and also provides strategic advise in the energy storage space.

A Belgium-French-American citizen passionate about energy and the environment, David's international career led him from performing Oil & Gas operations in the Middle East to leading as a technical Vice President the upstream portfolio of Total in the United States. He then focused his career on corporate innovation to accelerate the transformation of fossil fuels companies toward renewable energy ones, fostering and designing efficient partnerships between a diverse range of companies and stakeholders, advising renewable energy startups on their deployments, then leading as a COO the growth of Quidnet – a long-duration energy storage company based in Houston and active across the United States.

David is a graduate from Stanford Graduate School of Business, holds a Master in Engineering from School of Mines in France, and is an alumni of Chalmers University's Environmental Techniques' school in Sweden.